Brampton Home Inspector – Serving Peel Region With Quality Service
Mike Holley is backed by 30 over years of home building experience and knows what's needed when it comes to a high quality Brampton home inspection. In early 2009, Mike made the leap from a homebuilder into a home inspector solidifying the intent to assist new home buyers. Mike is well aware that a new home purchase is likely the biggest investment you will ever make, as such you should expect a thorough, ethical home inspection with additional solutions to any problems that could possibly arise.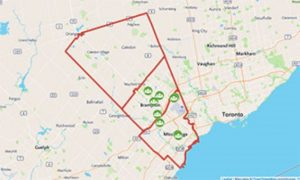 All of our inspectors are certified by OAHI because credentials matter!
Our inspections are ethical, thorough, and on time!
We offer top quality home & commercial inspections without added cost.
Roof inspection – Brampton home inspectors ready to service your property
There truly is no sense in conceivably leaving the most costly part of your home to risk: the rooftop. This is the thing that shields your home from the rain, slow and hail. Proper maintenance is key to your homes longevity. Our home inspections are intensive so not to miss any issues with this part of your home. We pride ourselves on being down to earth, approachable – as well as welcoming. When it comes to a quality roof inspection, don't delay and contact Holley Home Inspections today.
There's no need to sacrifice quality for speed—our roof inspections are both high quality and quick with experience
Our OAHI certified inspectors handle your commercial inspection needs fast
We ensure all of of our Brampton home inspectors are certified by the Ontario Association of Home Inspectors
Brampton Home Inspection – We offer certified inspection services across the GTA & Brampton
At Holley Homes, we understand that the typical customer has many options – that's why we lead with value to stand out from the crowded marketplace. Our inspectors are all equipped with the proper certifications and are friendly, personable, experienced and most importantly – reliable. We aim to instill our confidence in you during period of time and replace any anxieties with the feeling that you know you made the right choice. We don't just identify any potential issues – we'll help you understand them without leaving you wondering what we were talking about.
Our friendly, experienced inspectors go above and beyond to take the stress out of home buying.
With quick turnaround times, our fast service guarantees your inspection won't slow down your purchase.
We take our role as trusted experts seriously and our clients know it.
Commercial Property Inspector – Serving Brampton and the GTA
High quality commercial inspections performed by OAHI certified inspectors
Each of our inspectors is a professional accredited by the Ontario Association of Home Inspectors
Commercial Real Estate Inspector – Don't lose the deal, count on us to be there fast
We don't just do residential inspections – we also do commercial ones. Like our residential services, our commercial inspections are thorough from start to finish that will leave you feeling satisfied with the service. Our aim is to help identify any concerns with deferred maintenance, water and seepage problems, roof or vapor barrier issues and any concerns with the structure itself.
Count on Holley Home Inspections – Don't lose the deal!
Do you have a close coming up and need a quick inspection before you and your client seal the deal? Call us. We understand the time sensitive nature of this and are ready to jump into action and be where you need us to be. We service a very wide area in the GTA as well as Brampton and the greater Peel Region.  You can count on us to be very responsive to your needs. Let's help you close that deal and not only satisfy you as our client – but your client too.
Are you a realtor? Take advantage of our quick service to close the deal fast and problem-free!
Having an expert on your side is win-win-win for the seller, the buyer, and the real estate agent! Ensure your Brampton home inspection is completed accurately and thoroughly with Holley Home Inspections.
Learn more about municipal services in the Brampton area.