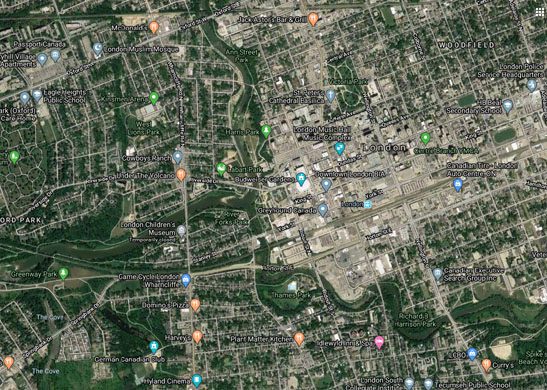 Holley Home Inspections is now providing London home and condo inspections
We all want a safe and secure home for the future of our families. The best way to ensure your new London area property is worth the investment is by having a quality inspection. Our inspections are done according to the standards of practice stated by the Ontario Association of Home Inspectors and these standards are our minimum base. We are qualified to use thermal imaging to detect cold spots and moisture in your home, experts at roof inspection and very thorough with foundation inspections.  We will carefully analyze the structure, electrical, heating, insulation, plumbing, air conditioning, interior, exterior, property and site and at the end of our property inspection we will leave you with a detailed maintenance list you can act on right away.
How can a home property inspection in London Ontario help you?
Home buyers need to know about problems on the property before buying and to ensure they pay a fair price. Our detailed home inspection report will help you negotiate a better price and leave you with a blueprint for what you need to be doing on an ongoing basis. For home sellers, we will guide you in presenting a house with a cleaner bill of health and help you be prepared to make a top dollar transaction for your property.
Not only are our home inspectors certified with OAHI, they participate in continuing education which keeps them up to date with the latest inspection methods and technologies.
Our team of local home inspectors has home construction and hands on building experience. This background enables us to notice hard-to-spot problems that less qualified property inspectors might miss!  New home buyers should not assume that everything is perfect because they have a new build. A thorough home inspection from our experienced technicians, however, can greatly reduce your potential risk.  Our goal is to ensure that any possible issues will be detected during the warranty period, we also offer a property inspection follow up just prior to your one year anniversary.
We provide property inspections in London, Ontario and greater area including Tillsonburg, Strathroy, Ingersol, St. Thomas, Waterford, Goderich to Chatham
Contact Us Now

to book your Home Inspection appointment
Holley Home Inspections has a well deserved reputation for thoroughness; You will find our condo and property inspections to be a pleasant, educational, detail oriented and most of all an informative process.
Who better to inspect your home than those who built them?
Mike's reviews on Homestars

Holley Home Inspections; Property inspectors you can count on
All of our home inspectors are registered and certified by both the Ontario Association of Home Inspectors (OAHI) and the American Society of Home Inspectors (ASHI).
These are the most widely respected inspection associations in Ontario and North America. They provide certification and set ethical guidelines for home and commercial inspectors.
On top of these credentials, members of our team have additional training in specialized areas of inspection like mold inspection and thermal imaging.

Post-report advice and solutions
Most home and commercial inspectors hand you their report and leave you to figure it out.
The Holley Home Inspection team goes the extra mile, helping you understand and resolve problems.
It's normal to find some problems during a house inspection. After all, nothing lasts forever without upkeep. But these problems aren't necessarily deal-breakers—in many cases, they're just part of the normal maintenance that comes with owning a property.
We help home buyers make informed decisions and learn the best way to care for their new property. With expert advice on where to invest their time and money, both sellers and new homeowners can increase the value of their investment.